Rules
Before editing please read the rules first Angela Anaconda Wiki: Policies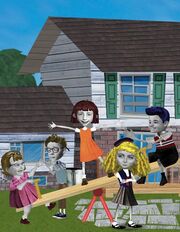 Welcome to the Angela Anaconda Wiki
The official wiki for Angela Anaconda! Angela Anaconda is a Canadian–American children's television series created by Joanna Ferrone and Sue Rose, the latter of whom who also voices the title character. The show began as a series of shorts on the KaBlam! program. It centers on the adventures of an eight-year-old girl named Angela in the fictional town of Tapwater Springs. Other characters include Angela's three best friends and several antagonists, such as a snobbish girl named Nanette and a manipulative teacher named Mrs. Brinks.
The show features cutout animation, in which characters are created using black-and-white photographs. The production studio, C.O.R.E. Digital Pictures, used Avid Elastic Reality's' software to superimpose models' faces onto computer-generated bodies and backgrounds.
Wildbrain (formerly known as DHX Media) and C.O.R.E. Digital Pictures developed Angela Anaconda into a long-form series in 1999. The show aired on Nickelodeon networks in the United States and internationally. Teletoon aired it in Canada, and Fox Kids temporarily carried the program until Disney repositioned the network in 2001.
Although the series has not had a full DVD release, the first twenty episodes were distributed across four volumes in Australia, where the program is broadcast on Nickelodeon Australia.
Angela Anaconda began as a short skit on the Nickelodeon show Kablam!. Angela Anaconda later became a series and was a hit on Fox Family Channel from 1999 to 2002. In 2001, when Disney bought the Fox Family Channel and changed the network's name to ABC Family, Angela Anaconda was moved and canceled after two months. The show aired reruns on Nickelodeon in 2004, but was removed about a month later. There was an there was an episode later released in the US on October 28, 2006
Where To Go For Fanon Stuff
Meet the Characters!
---
The Angela Anaconda WIki is a fan site hosted on Fandom and managed by the fans of the show. It is not under any circumstance affiliated with WildBrain Entertainment or its subsidiaries.
Community content is available under
CC-BY-SA
unless otherwise noted.