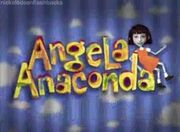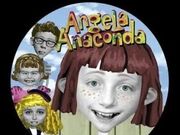 Angela Anaconda was a Canadian-American Animated Series starring, well, the title character. The imaginative Angela and her friends, Gina Lash, Johnny Abatti, and Gordy Rhinehart, go to school with Nanette Manoir and her girl posse, and get into all sorts of wacky hijinks. The series lasted from October 1999 to November 2001 with a total of 65 episodes.
Angela Anaconda started as a segment on KaBlam but moved onto its own series in 1999.
Characters
Edit
Was aired on
Edit
FTV
Teletoon
Fox Family
ABC Family
Fox Kids
Nickelodeon
Starz Kids and Family
Channel 4
Pop Girl
KidsCo
POP TV
TV3
ABC1
ABC2
Cartoon Network
Ultra TV
TVP3
Super RTL
ORF 1
YLE TV2
France 3
And More!
Theme Song
Edit
My name is Angela hey hello,
Welcome to my very own show,
I'll introduce my friends to you.
Oh, no, it's Ninny-poo!
Shooby dooby doo waa waa,
My name is Angela and you are not!
Nanette Manoir Is a stuck up jerk face snob.
And now, for today's story, starring me, and not starring Nanette Manoir!
hehehehehehehehe.
Season 3 only had 13 episodes, compared to the usual 26.
When Fox Family became ABC Family, the show was regulated to less popular time slots before being cancelled altogether within months.
For the character animations, they got a model to come in and they took about 30 pictures for each mouth movement they could have possibly needed. They used different face models for most of the main characters; an exception was the episode 'French Connection' where Angela and Nannette Manoir's faces were recycled to make their respective foreign exchange student counterparts.
For a while, it was very common for people to believe that the show was being owned by Wildbrain was what prevented Nicktoons from airing the two KaBlam! episodes with the original Angela Anaconda shorts in reruns. This was debunked in the early 2010s when the creator of another KaBlam! short revealed on a (now defunct) fansite that Viacom still owns the two original shorts, just nothing else. The episodes continued to air in reruns on Nickelodeon even after the short was spun-off on Fox Family.
The first entire season of the series has been added to Hulu.
Community content is available under
CC-BY-SA
unless otherwise noted.